Welcome to Saisei Australia!

Saisei Group
About Saisei Australia Pty Ltd.
Saisei Australia was established in 2019 in Sydney, and our office is located at the Gold Coast, Australia. Due to increasing demand from Australia, we decided to open our business in Australia to make it much easier for our customers from Australia and New Zealand to order our products. We ship out our MAF series food supplements from the beautiful Gold Coast to the rest of Australia and to New Zealand customers. Our MAF products are made from whey and are registered as Food Supplements in Japan.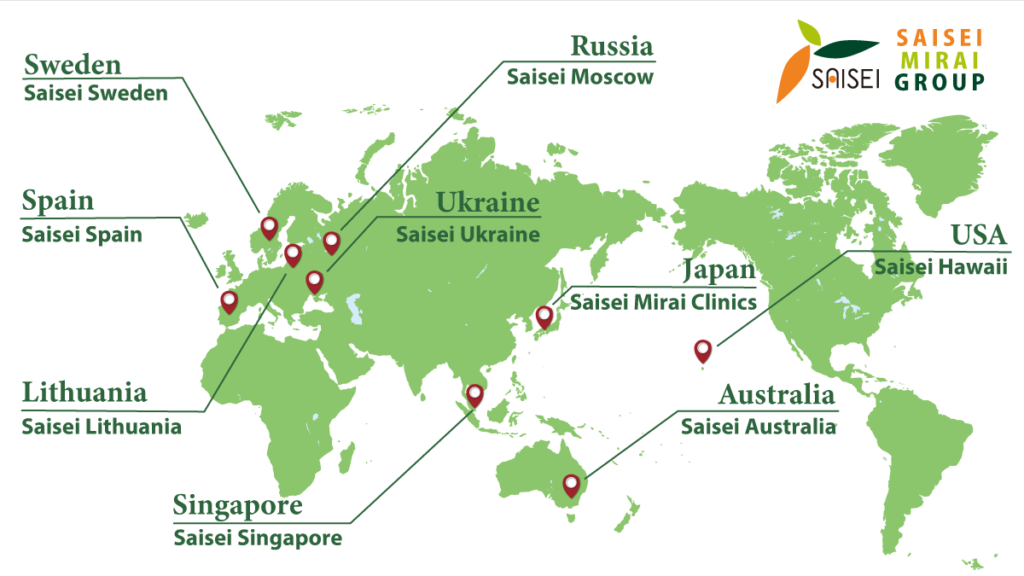 Level 13, 60 Castlereagh Street Sydney NSW 2000
PO Box 5514 Q Supercentre Qld 4218
+6107 3040 1233
This phone number is for mainly for shipping inquiries.
Due to Covid-19, we work from home and unable to take phone calls in timely manner.
Please contact us through the contact form. We appreciate your understanding.
Please note: we do not treat patients, nor do we have a clinic here in Australia. Please contact Saisei Mirai Clinics in Japan for medical enquires.
About Saisei Mirai Clinics
Saisei Mirai Clinics have been mainly treating cancer patients in the past, but we now treat patients with a wide variety of diseases from all over the world.
Saisei Australia would like to help the general population who would like to keep their youth and stay healthy in everyday life.
A little history about Saisei Mirai Group.
Our head office and cell processing centre are in Osaka. We have additional clinics in Osaka, Kobe, and Tokyo. Saisei Mirai is expanding overseas and now has several branches around the world. Our goal is to overcome serious diseases, such as cancer, autism, infectious diseases and so on.
Saisei Mirai Clinics and Saisei Pharma developed our 2nd Generation GcMAF (injection) and 3rd Generation GcMAF (food supplements). We hold 13 patents in total in Australia, EU, Israel, Japan, and USA.
特許の名称 Invention title
取得国 Issued Country
取得日 Effective date of patent
取得番号 Patent Number
Serum GcMAF
医薬組成物およびその製造方法 Pharmaceutical composition and method of preparing same
アメリカ USA
2014.06.10
US8747919B2
2016.08.09
US9409972B2
2017.06.06
US9670268B2
EU
2016.07.13
EP2687218B1
オーストラリア AUSTRALIA
2016.05.12
2012309586
日本 JAPAN
2015.12.25
5860817
イスラエル ISRAEL
2018.06.30
231505
疲労を伴う疾患の予防改善剤 Preventive and improving agents for diseases associated with fatigue
日本 JAPAN
2019.07.19
6555738
アレルギー疾患の予防改善剤 Preventive and improving agents for allergic diseases
日本 JAPAN
2019.09.06
6579603
育毛・発毛促進剤 Hair growth / hair growth promoter
日本 JAPAN
2019.09.06
6579604
皮膚改善剤 Skin improving agents
日本 JAPAN
2019.09.06
6579605
特許の名称 Invention title
取得国 Issued Country
取得日 Effective date of patent
取得番号 Patent Number
Colostrum MAF
ウシ初乳酵素処理物、その製造方法、組成物および飲食品 Enzyme-treated bovine colostrum, preparation method thereof, composition, and foods and beverages
日本 JAPAN
2018.09.14
6401712
アメリカ USA
2019.06.18
US10322147B2